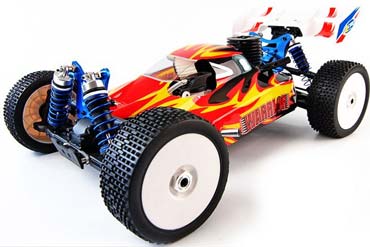 This ACME Warrior is a fully built, fully featured, race ready, top of the range 1/8 scale 4WD off-road buggy, and comes with many feature enhancements to make this great looking car not only look the part but 'be' the part! There are few versions available and all have high quality components, and a powerful .21 nitro engine.
The Warrior is built around a solid aluminum chassis, which has a width of only 129mm; this centralised chassis design allows quicker steering and faster response. The blows are cushioned by the 16mm super big bore oil shocks, pictured left. The Warrior also has fully adjustable sway bar ball cups, and an adjustable high-downforce wing for better traction and stability. Additionally the front bumper is built so that it moves backwards on impact, this can prevent the chassis from becoming distorted or even broken when landing after jumps.
The warrior is built using advanced components and innovative engineering to get the best performance out of your package. It has a newly developed C-hub steering system, where the king pin axis extends to the wheel centre (see picture right) this feature improves steering performance. It has a specially designed suspension system, with twin adjustable rear suspension modes which allows for a flexible driving mode and a smooth driving mode. Part of its performance is due to the lightweight ultra-compact gear box; this has a low centre of gravity, assisting with grip and control. The gearbox is also built to be highly durable, so that it can cope better with the hard knocks associated with buggy use. It has been engineered with a gear ratio that offers both superb acceleration and a high top speed. Not only this but the gearbox consists of all steel gear and is of a pinion design which makes it easier to maintain and repair.